Our Director, Professor Andy Tatem and Senior Research Fellow Dr Chris Nnanatu have just returned from running a successful 4-day workshop for the Thai National Statistical Office (TNSO) in Bangkok.
Thailand was set to conduct a national census in 2020 to provide vital statistics to support governance and the allocation of resources. This was delayed due to the pandemic, but in the meantime, there is a great need to develop alternative approaches to producing population estimates. It is also anticipated there will be areas that are difficult to enumerate – such as high-rise buildings and gated communities, where estimates will be required.
Earlier this year the United Nations Population Fund (UNFPA) and the TNSO approached WorldPop for support in designing and aiding the implementation of new population estimation methods. Initial funding was provided to support an engagement workshop to collaborate on designing methods and for WorldPop to deliver training.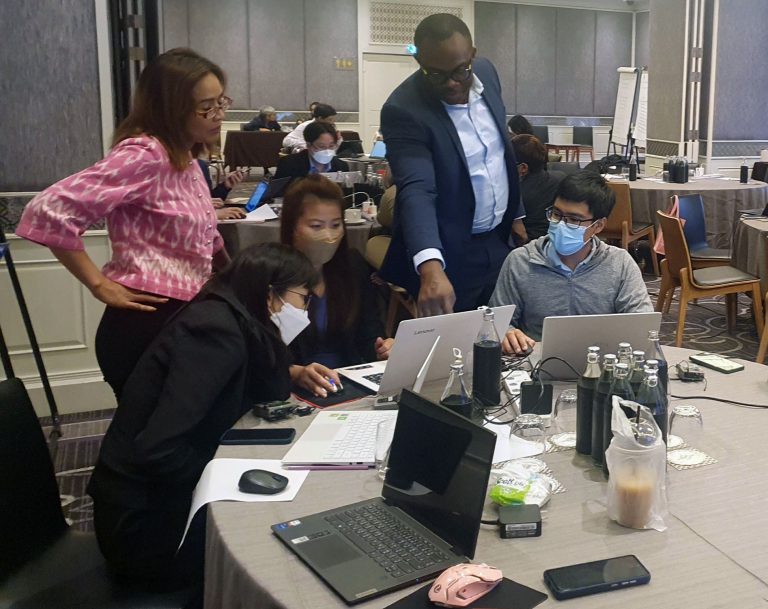 More than 50 participants from the TNSO, other government departments, academia and a range of agencies took part in the workshop and training sessions, which covered topics including; GIS in data collection and statistical analysis in Thailand, top-down disaggregation modelling and bottom-up modelled estimation of population and data for modelling.
The workshop was a flagship activity for WorldPop in southeast Asia. It has initiated a valuable partnership with TNSO which we hope will lead to high impact research, solutions to census data collection challenges and facilitate longer-term engagements with the Thai government, UN agencies, and regional universities.
NSO had little knowledge and less experience in doing statistical modelling…This workshop gave us a lot [of] theory and how to apply it in practice. We have a better understanding about top down and bottom-up model approaches and got to know how R works to calculate the estimate. I love the way the Professor got to know us and our data by discussion during the workshop.