WorldPop works to ensure that every person is mapped and counted in decision making.
 An understanding of the numbers, characteristics and locations of human populations underpins operational work, policy analyses and scientific development globally across multiple sectors. However, traditional population data sources are often outdated, have low granularity and are updated on the scale of decades. New data sources and recent methodological advances made by the WorldPop program now provide high resolution, open and contemporary data on human population distributions, allowing accurate measurement of local population distributions, compositions, characteristics, growth and dynamics, across national and regional scales.
The global human population is growing by over 80 million a year, and is projected to reach the 10 billion mark within 50 years.
The vast majority of this growth is expected to be concentrated in low income countries, and primarily in urban areas. The effects of such rapid growth are well documented, with the economies, environment and health of nations, amongst others, all undergoing significant change. High resolution, contemporary data on human population distributions and their compositions are a prerequisite for the accurate measurement of the impacts of population growth, for monitoring changes and for planning interventions. The WorldPop project was initiated in 2013 to unite the continent-focussed AfriPop, AsiaPop and AmeriPop projects, with an aim of producing detailed and freely-available population distribution and composition maps for the whole of Central and South America, Africa and Asia.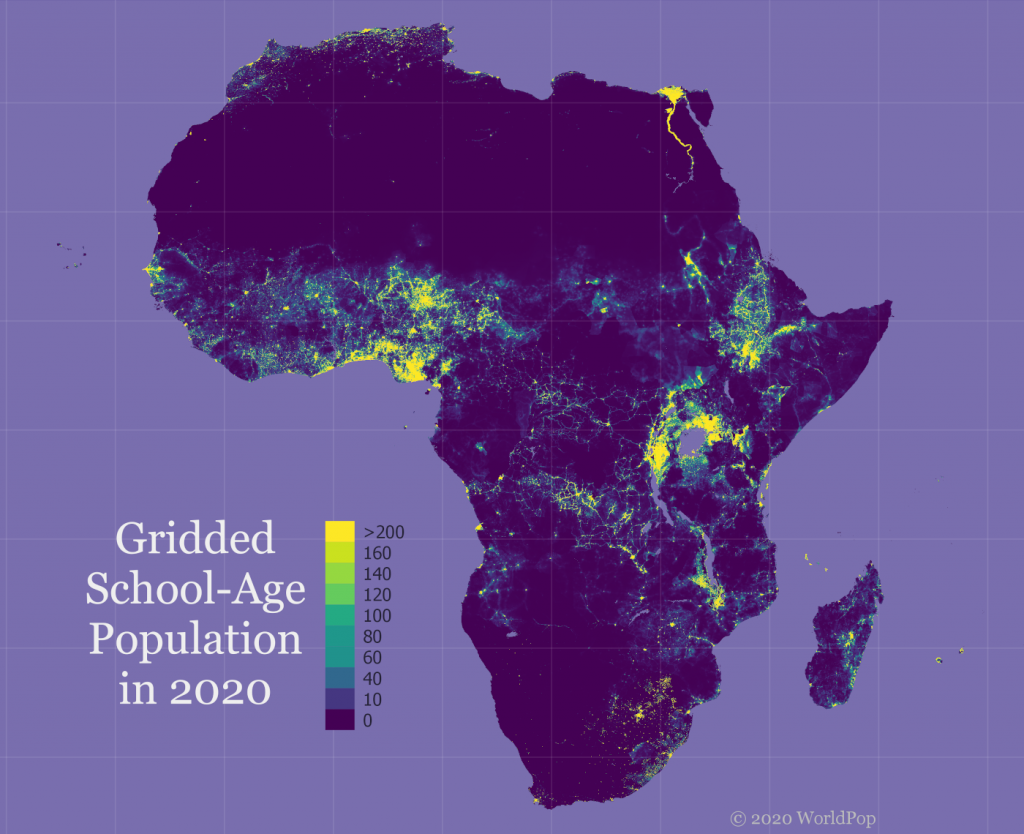 Spatial databases of human population have found use in disease burden estimation, epidemic modelling, resource allocation, disaster management, accessibility modelling, transport and city planning, poverty mapping and environmental impact assessment amongst others. Whilst high-income countries often have extensive mapping resources and expertise at their disposal to create such databases, across the low income regions of the world, relevant data are either lacking or are of poor quality. The scarcity of mapping resources, lack of reliable validation data and difficulty in obtaining high resolution contemporary census statistics remain major obstacles to settlement and population mapping across the low income regions of the World.
Based on the approaches outlined on the methods page, within the WorldPop project a range of open geospatial datasets are combined in a flexible regression tree framework to reallocate contemporary aggregated spatial population count data. Statistical assessments suggest that the resultant maps are consistently more accurate than existing population map products, as well as the simple gridding of census data. Moreover, the 100m spatial resolution represents a finer mapping detail than has been produced at national extents, and the integration with household survey, microdata, satellite and other datasources enables the production of more than simply population count estimates – age structures, births, pregnancies, poverty and urban growth are all mapped, with further variables under production.
The approaches used in WorldPop dataset production are designed with full open access and operational application in mind, using transparent, documented and shareable methods to produce easily updatable maps with accompanying metadata. Given the speed with which population growth and urbanisation are occurring across much of the low income world, and the impacts these are having on the economies, environments and health of nations, such features are a necessity for both research and operational applications. WorldPop datasets are certainly not perfect, and rely on the support of users to provide feedback to iteratively improve outputs. Users are actively invited to highlight errors and provide suggestions on alternative data that can aid in improving outputs.
WorldPop datasets have been downloaded by researchers and policy makers from countries across the World, including 95% of the countries mapped by the project, resulting in valuable feedback and improvements to products. The data have been downloaded and used by a wide range of governments agencies, including for example, the Zimbabwe Parks and Wildlife Management Authority (Zimbabwe), SNLS (Guinea Bissau), The Regional Center for Mapping of Resources for Development (Kenya), Programme National de Développement Participatif (Cameroon), National Emergency Management Agency (Nigeria), Ministère des travaux public (Benin), Somaliland National Aids Commission (Somalia), Kerala Sustainable Urban Development Programme (India), Central Agency for Public Mobilization and Statistics (Egypt), and the Ministère de l'Environnement et des ressources forestières (Togo). Many international organizations, foundations and agencies have obtained and utilized WorldPop outputs, including: UNDP, UNEP, FAO, WHO, The World Bank, WFP, WWF, CDC, MSF, Population Council, Bill & Melinda Gates Foundation, Clinton Health Access Initiative, DFID, USGS, Red Cross International, UNOCHA and MapAction. Example publications, reports and analyses based on WorldPop data are shown below.