Last week one of our project teams returned from running a 5-day capacity strengthening workshop in Papua New Guinea (PNG). Organised with the PNG National Statistics Office (NSO) and the United Nations Population Fund (UNFPA) as part of our Intercensal modelled population estimates for Papua New Guinea project, the workshop was run by Principal Research Fellow Dr Attila Lazar, Research Fellow Dr Hal Voepel and Research Technician Amy Bonnie.
More than 20 workshop participants from the NSO, Department of National Planning, University of Papua New Guinea and the Climate Change Bureau took part in the training, which focused on developing geospatial and population estimation skills and techniques.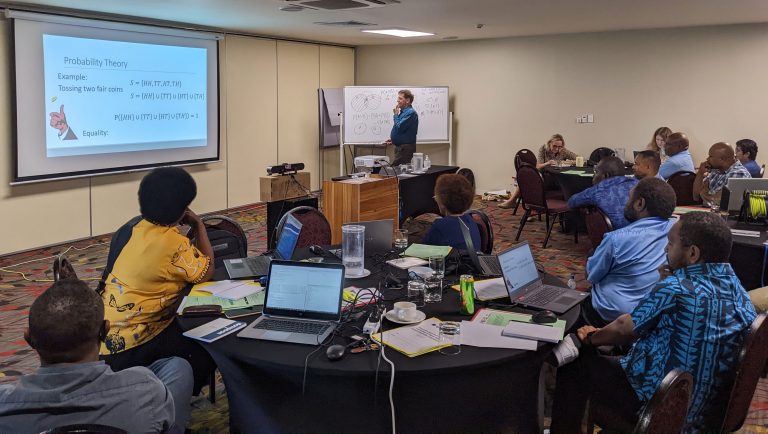 This training is vital for PNG decision making bodies as the national census, which was due to run last year, has been delayed. Having up-to-date subnational population data is central to informed decision making for health care delivery and investment, and being able to calculate reliable population estimates at a granular level in the absence of a recent census data is an important skill.
For many workshop participants this was a much-needed introduction to GIS and Bayesian statistics, and the workshop was structured to build up from the basics.
Leading sessions on probability and Bayesian statistics, Dr Hal Voepel used coins and playing cards to demonstrate underlying principles. The key steps of population estimation methodology were also explored in practical sessions using free, open-source applications – QGIS and R programming. Use-case practicals were also undertaken which provided examples of how the population estimation outputs could be used in development and planning – such as deciding where to build new health facilities, or estimating populations at-risk from cyclone events.
Participants had high praise for the workshop which led to calls for further training and collaborations, which we are actively developing.
The training course is very useful, and I was amazed at the possibility of transforming the wealth or raw data into very detailed outputs.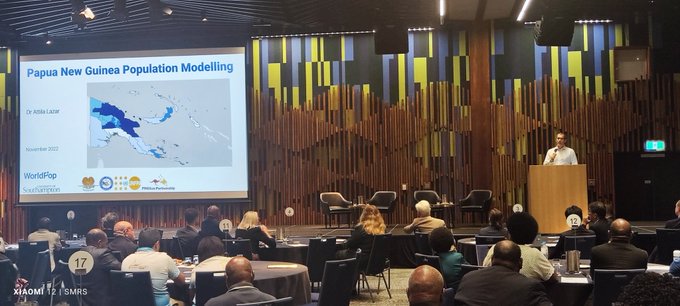 Following the workshop, Dr Attila Lazar presented our population estimation methodology at the UNFPA 'World of 8 Billion' event in Port Moresby.