Earlier this week Senior Research Fellow, Dr Sarchil Qader led an intensive 2-day bi-lingual virtual training workshop to strengthen Benin's and the Republic of Guinea's geospatial skills as both countries prepare to conduct their national censuses.
Dr Qader gave step-by-step guidance to cartographers from Benin's National Institute of Statistics and Demography (INStaD) and the Republic of Guinea's National Institute of Statistics (INS). The aim was to build the skills necessary to input datasets for the preEA tool package and create automatic Enumeration Areas (EAs) for environments with inadequate data. Throughout the workshop, participants were introduced to critical geospatial techniques that will help them facilitate census cartography and design their upcoming census work more efficiently.
Benin and Guinea are keen to adopt new geospatial technologies in their workflow to assure they benefit from modern census techniques. Creating and updating digitized census EAs and a national sampling frame is a challenging yet essential step in preparing for a national census. The process of creating census EAs is even more complicated in sparse data settings. This is particularly the case in rural areas where partial data is available and limited ground natural and man-made features can be seen on high-resolution satellite imagery.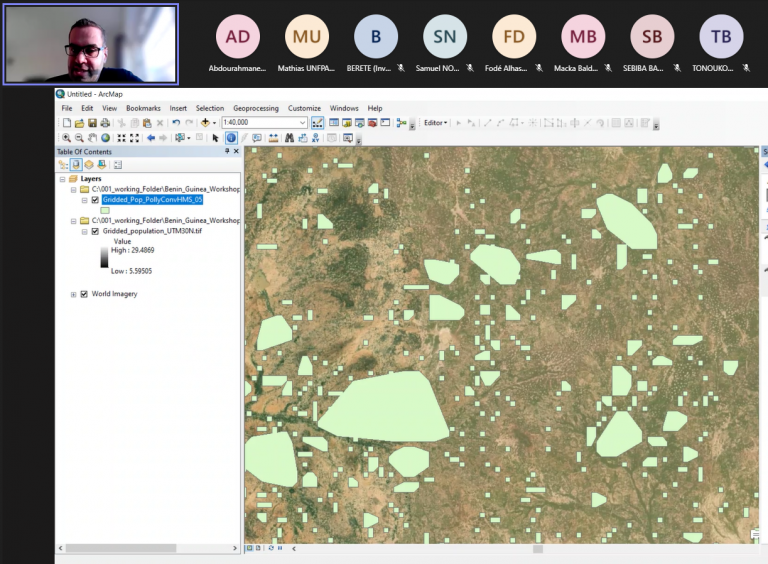 The workshop was organized in collaboration with the United Nations Population Fund (UNFPA) for West & Central Africa/Afrique de l'Ouest et du Centre (WCARO) and the UNFPA Benin Office for technicians who wished to expand their skills and incorporate geospatial techniques in their EA demarcation processes. Around 20 lead cartographers took part in the workshop which was funded by GRID3 project.
Dr Qader is a leading expert in automatic enumeration area (EA) delineation and has collaborated with Andy Harfoot of the University of Southampton's GeoData research group to develop WorldPop's user-friendly 'preEA Tool package'. The package offers different geospatial tools that can assist in implementing census cartography and achieving modern census.