Our Deputy Director for Enterprise and Engagement, Ian Coady recently travelled to Punta del Este, Uruguay to join the Festival de Datos, a celebration of the use of data in international development, organised by Global Partnership for Sustainable Development Data. The 3-day festival included debates on AI for Development, inclusive data processes, innovations for public health surveillance and intelligence, and the principles guiding efforts to share privately held data that has the potential to improve lives.  
A significant focus for Ian was discussion around the recently launched United Nations Power of Data High Impact Initiative. The initiative aims to encourage and develop national data partnerships to better integrate demographic, statistical and geospatial data into policy making to support the 2030 Sustainable Development Agenda.
Ian presented the WorldPop methodologies to a peer exchange session on modelled estimates and highlighted some of the challenges to producing reliable, timely census data in fragile and conflict affected states. He also set out the WorldPop offer of not only modelled population estimates, but also the co-development and capacity building that makes the WorldPop approach so impactful.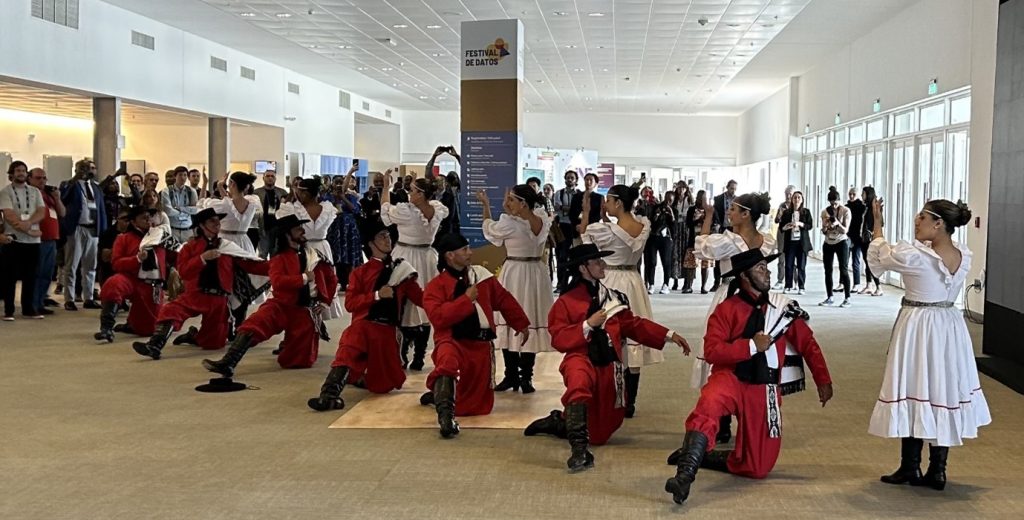 As the name of the Festival de Datos implies, it is as much a celebration of data as it is a forum for discussion, and no celebration is complete without dancing. Delegates at the event were treated to a number of cultural dances throughout the proceedings, including Candombe, Malambo and Tango.
The festival was attended by delegates from a range of data for development organisations, including Open Data Watch, the World Bank, Datalat Foundation, Flowminder, and the Open Data Institute. To celebrate the festival Flowmider posted a population distribution map of Uruguay to the #30DayMapChallenge using WorldPop open population data.
The next Data for Development Festival will be hosted by the Kenyan Government in Nairobi in 2025.