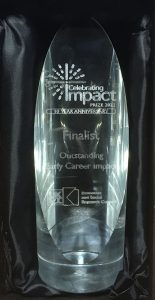 Spatial Epidemiologist, PhD researcher and WorldPop colleague Winfred Dotse-Gborgbortsi was awarded runner-up prize at the prestigious ESRC Celebrating Impact Prize 2022 ceremony at the Royal Society last night. Winfred had been nominated as one of two candidates for the Outstanding Early Career Impact award for his work on Geospatial analysis for Ghanaian maternal healthcare delivery and international policy.
Funded by an ESRC studentship and through the South Coast Doctoral Training Partnership, Winfred's research investigated the quality of birthing services and travel time to quality health facilities in Ghana. Working closely with Ghana Health Services he formulated policies to reduce the number of deaths due to pregnancy and childbirth-related complications.
"Winfred's greatest impact was in capacity building . He increased the depth in how we analysed routine data and use this for making decisions and improving the quality of our services. His contribution has been immense... The research really demonstrated how the Health Service has to make structural changes in the provision and distribution of law care facilities and Winfred worked really closely with us to deliver these changes."
Following the completion of this project, and through Winfred's international collaboration with the United Nations Population Fund, similar methods for modelling special inequalities are now being scaled up in Burkina Faso, Kenya, Pakistan and other countries.
Results from the project are published in Tropical Medicine and International Health and he recently led a paper published in BMC Pregnancy and Childbirth. Winfred aims to submit his PhD thesis for examination in early 2023.