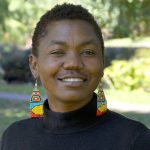 Tuli is a ESRC funded PhD research student who contributes to analytical work on WorldPop projects.
She obtained her BSc (Hons.) in IT Business Computing from the Namibia University of Science and Technology. Tuli has a MSc Data Science from University of Salford and a Chevening Scholar.
Tuli has extensive data management experience working at the Namibia Statistics Agency at various levels including software development, database management, data analytics, survey project management, and fostering data science related collaborations both locally and internationally – including the  RUsers Namibia initiative.
Her research interests -span finding alternative cost-effective methods and data sources to complement national statistics productions using geospatial datasets for lower- and middle-income countries.
Tuli's PhD project aims to explore and evaluate various population projection methods, focusing on using geospatial datasets to improve small area estimates, with emphasis on Namibia.