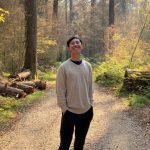 Theo is a PhD research student currently working with WorldPop on projects investigating healthcare and immunization inequities in low- and middle-income countries.
He received his Bachelor of Science (BSc) in Applied Mathematics and Statistics at Coventry University and his Master of Science (MSc) in Statistics at the University of Southampton. His current postgraduate research is focused on investigating model selection techniques for Bayesian point-referenced spatial and spatiotemporal models, where he is under the supervision of Professor Sujit Sahu and Dr Chigozie Edson Utazi.
Since the beginning of his journey as a PhD research student, Theo has been involved with teaching roles such as demonstrating in technical lab sessions and leading problem classes for various undergraduate mathematics and statistics modules. His involvement with WorldPop began early on in his PhD career as a research assistant. He participated in a year-long project led by Professor Andy Tatem that investigated Facebook's mobility data during the height of the COVID-19 pandemic.